General Treatments
Cosmetic Treatments
Castle Dental Studio provide advanced techniques such as Boutique teeth Whitening, Invisalign - the invisible way to straighten teeth, Veeners - and Straumann dental Implants.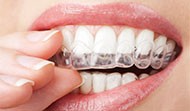 Invisalign
Invisalign is the invisible way to straighten teeth. It involves a series of clear aligners which slowly move 1 or more teeth at a time to achieve that perfect smile you always wanted. A computer generated image of your teeth – "the Clincheck"- will show you how your teeth will look before you start your treatment.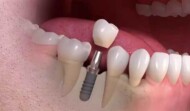 Dental implants
Straumann dental implants are one of the most well predictable systems with more than 30 years of broad clinical and scientific evidence. They have shown more than 98.8% survival clinical rate in 10 years (average long-term studies on implant survival rates)
Straumann implants and components are manufactured under Swiss precision technology and highest quality standards. Implant surfaces are unique and designed for shorter healing times and better integration to the bone.
Teeth whitening
Everyone wants a brighter smile. At Castle Dental Studio we offer an at home teeth whitening package, all it takes is two appointments approximately two weeks apart. At the first appointment we take an impressions of your teeth, at the second appointment you will get your whitening trays along with four syringes of the boutique bleach and all the information on how to use it with a take home leaflet.
The UKs most trusted teeth whitening brand. Boutique was built by a dentist with 20 years' experience and a simple dream: to make the life-changing power of a beautiful smile accessible to everyone.
https://castledentalstudio.com/fees/
Dental Care Plan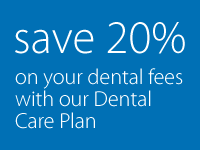 The dental health of you and your family is important, so it's worth considering our dental insurance plan to help you pay for the cost of treatment.
Dental plans contribute towards, or pay for, the cost of check-up's and treatment, giving you peace of mind and saving you money.
Learn more about our dental care plan
Our Patients Say it Best
A very professional and informative consultation. My concerns were listened to and all options explained well to me. I chose veneers as I wanted a perfect smile for a family wedding. At 32 I was not wanting to spend 2 years wearing braces, no matter how discrete they may be. The process was very quick once I was certain which option to choose. I had complete faith in Declan's skills and judgement. This is a must as you are trusting someone to file down your own teeth. It's not a pain free process but once numbed you don't feel a thing. I am over the moon with my results and can smile with confidence once again. I would highly recommend to anyone who is unhappy with their teeth to at least go for a consultation. Everyone is different and Declan will help you to choose the best process for you. –JB (Omagh)

I found Castle Dental Studio offered me a new pain free and friendly dental experience. Dr Declan O'Neill's expertise ensured I had no anxieties and he took the time to explain all options available. He was able to offer an extensive range of treatments including cosmetic choices. Teeth are so important and my teeth needed a lot of work to give me back my confidence. Under Dr Declan O'Neill's professional care I now have wonderful crowns made to fit perfectly and give me a big smile again. They look and feel so natural! The extensive treatment was planned and carried out so quickly and efficiently and at times to suit me. All the staff are so friendly and create a relaxed environment. It is a pleasure to visit Castle Dental Studio and know that my dental health will always be well cared for. Emergency appointments are always so promptly facilitated. –MG (Omagh)