What is a crown?
A crown is an artificial restoration that fits over the remaining part of a prepared tooth, making it strong and giving it the shape of a natural tooth. A crown is sometimes known as a 'cap'.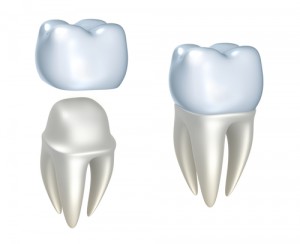 Why would I need a crown?
Crowns are an ideal way to restore teeth that have been broken, or have been weakened by decay or a very large filling. A crown could be used for a number of other reasons, for example:
you may have a discoloured filling and would like to improve the appearance of the tooth.
you may have had a root filling which may need a crown to protect what is left of the tooth.
it may help hold a bridge or denture firmly in place.
What is a crown made of?
Crowns can be made of a variety of different materials and new materials are being introduced all the time. Here are some of the most popular options:
Porcelain bonded to precious or non-precious metal: this is what most crowns are made from. A precious or non-precious metal base is made and then porcelain is applied in layers over it.
Porcelain crowns: these crowns are made entirely out of porcelain and are not as strong as bonded crowns, but they can look very natural and are most often used for front teeth.
All-ceramic crowns: this modern material is metal free. It can give the strength of a bonded crown and the appearance of a porcelain crown. This makes it suitable for use in all areas of the mouth.
Glass: these crowns look very natural and are used on both front and back teeth.
What is a post crown?
If a tooth is root filled the dentist may have to insert a post before placing a crown. A post provides support and helps the crown stay in place. The weakened crown of the tooth may be shortened to gum level.
There are ready-made stainless steel posts which the dentist can fit directly into the root canal, or the dental technician can make a custom-made post to accurately fit the shape of the prepared root canal. The post is placed into the root canal and cemented in position, ready for the crown to be attached.
Are there any alternatives to post crowns for root-filled teeth?
If a root-filled tooth is not completely broken down, it may be possible to build it up again using filling material. This 'core' is then prepared in the same way as a natural tooth and the impressions are taken.
More Questions About Crowns
What Our Patients Say...
Content goes here...–John Doe, Company Name

Content goes here...–John Doe, Company Name

Content goes here...–John Doe, Company Name